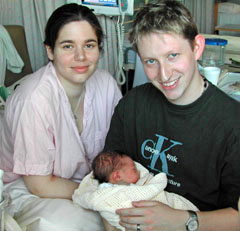 Hi, we're Alan and Jen and we were married on August 6, 2005. Holly our daughter entered our lives on August 21, 2006. Liam, our son, arrived on November 20, 2007.
Alan's a graduate of Glasgow University and works with in England for SPSS (Predictive Software). Alan's a Solutions Architect and is involved with customer requirement analysis and solution development.
Jen's a graduate of Exeter University and works for HM Government.
The family live in Camberley, Surrey. In addition to the huge demands of the children, they'd only been married for just over a couple of years. So decorating projects feature highly in their spare time. Alan likes canoeing. Jen plays piano and flute. They have a couple of cats - Smokes who is about 10 now and Tinkerbell - who's a little over a year old.

Jen with Liam just after his birth.

Alan and Jennifer at their wedding.